Deich is waiting to see how much celebrities actually send before Carbon180 makes plans for the future. But a sudden surge of money pumping into institutions that are far more meager than realized … well, it feels kind of familiar, he said. "Honestly, it's not a terrible metaphor for addressing global climate change and decarbonizing the economy in the next 15 years," he said.
As popular culture comes to understand how inextricable it is from the energy system, this story might be repeated many times over. Especially during the climate-tech boom that seems to be coming.
---
Someone Else's Weather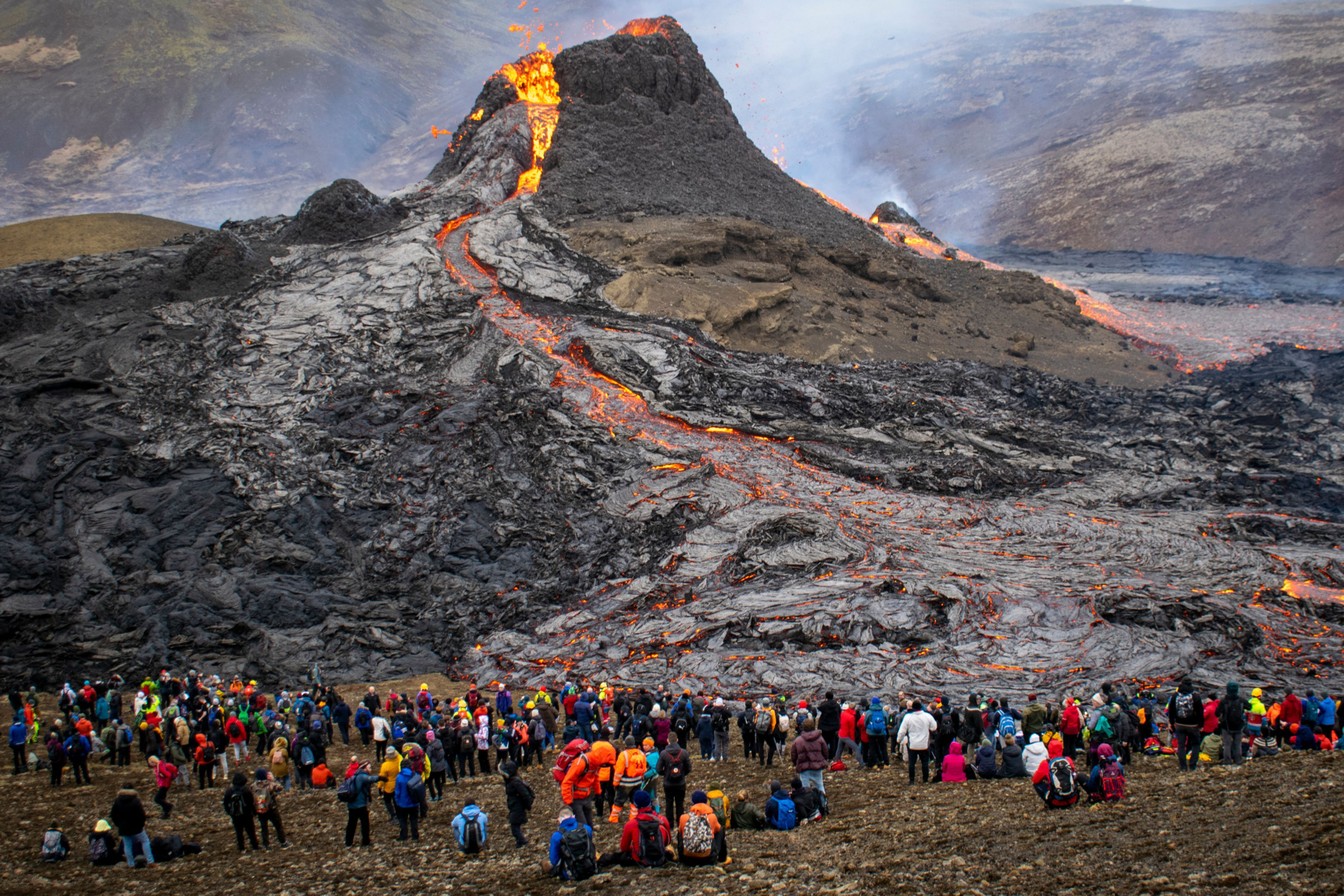 Jeremie Richard / AFP / Getty
Normally, weather comes from the sky; it can also come from the ground. I'm not sure whether we have Icelandic readers, but last week residents of Reykjavik got to see the eruption of the nearby Mount Fagradalsfjall. The eruption was well predicted because it was preceded by about 50,000 earthquakes, which sounds like a made-up number. So far Fagradalsfjall's eruption has not caused the kind of global disruption to air travel seen in 2010, when the subglacial volcano Eyjafjallajökull spewed volcanic ash into the high atmosphere.
Have you seen Fagradalsfjall from Iceland? Have you seen weather in your neck of the woods? Let me know. Every week, I feature a weather photo from a reader or professional in this part of the newsletter, because the climate is someone else's weather. If you would like to submit one, please email [email protected]
---
3 More Things
1. The world's best-selling electric vehicle in January and February was a tiny, drivable cube called the Hong Guang Mini EV. It looks kind of like a Chevy Spark, which makes sense: It's the product of a partnership between General Motors and two Chinese firms. A new model retails in China for the equivalent of $4,500.
2. The University of Chicago's Energy Policy Institute—where, full disclosure, I am a visiting fellow in journalism—has released a book of climate proposals for the Biden administration. I think readers of this newsletter may be especially interested in its chapters on how to decarbonize the U.S. electricity grid.
3. Climate-bill watch: White House staff will likely propose their plan for a multitrillion-dollar infrastructure-and-climate package to Joe Biden this week, The New York Times reports. The package will include "nearly $1 trillion" for roads, bridges, rail lines, electric-vehicle charging stations, and other construction projects; it would also aim to develop some strategic high-tech industries domestically, including electric-vehicle sales.
Let me be polite and say that the strategy for the package still seems to be taking shape. The White House wants to tax the rich to pay for its plan and lure Republicans to support it—an unlikely combination. Perhaps the most revealing clue I've seen to what senior Democratic policy makers are thinking was an op-ed in the Financial Times yesterday by Peter Orszag, a mainstream macroeconomist and former Obama budget czar. At the White House a decade ago, Orszag sought to shrink the federal budget deficit. So I was struck by his declarations this week that the U.S. should prioritize climate investments—"even if they are deficit financed."
"Climate change is irreversible; the world will never be the same. But fiscal risk is not," he continued. "In this unusual moment, the priority should be protecting the globe rather than the budget."
This kind of statement, from the centrist de la centrist, would have been unimaginable a decade ago. But of course, the only guarantee of the status quo is that one day, it will change.
---
Thanks for reading. To get The Weekly Planet in your inbox, sign up here.