Once a niche activity, paddleboarding (also called stand-up paddleboarding, or SUP) is now one of the UK's fastest-growing water sports. In 2020, paddleboard manufacturer Red Paddle Co recorded a 300% rise in sales and enquiries. Especially since the onset of the pandemic, SUP has captured the imagination of people looking for a sport that's socially distanced and affordable, fosters a sense of wellness by being immersed in nature, and offers a way to enjoy the scenery from a whole new perspective. Enthusiasts are also using paddleboarding as a platform to raise awareness of environmental concerns.
Paddleboarders may make it look effortless as they cut elegantly across the water, but it's essential that everyone learns how to take up the sport safely. Here, three paddleboarders share their SUP stories and safety tips …
Sarah Lindley: 'Always wear a flotation device, never enter the water without your leash attached, and avoid paddling alone'
The recent convert: Sarah Lindley, Whitstable, Kent
"I started paddleboarding last summer after my husband, Rob, convinced me it would be a great activity we could enjoy together. He took me out on his board and I loved it. I grew up in Whitstable and what blew me away was seeing the coastline I know so well from a different perspective. I was hooked!
You don't have to be amazing at paddleboarding to reap the benefits of being out on the water. If you want to sit down to start off with – like I did – that's absolutely fine. Rob and I love taking our children paddleboarding. Our daughters, both 10, are very good, and our five-year-old son goes out on the board with his dad.
Rob is so passionate about paddleboarding that he set up Whitstable Paddles last year after we'd met a lot of people out on the water with questions about equipment, techniques and safety. Apart from offering lessons and hiring out boards, the club is also there to create a sense of community. We've organised some great club nights including an SUP safety talk from the Whitstable RNLI followed by a sunset paddle around Whitstable harbour.
My top safety tips are to always wear a flotation device, never enter the water without your leash attached, and avoid paddling alone. Always check the weather forecast before heading out. And carry a mobile phone in a waterproof case – great for photos, but also to get help if you need it."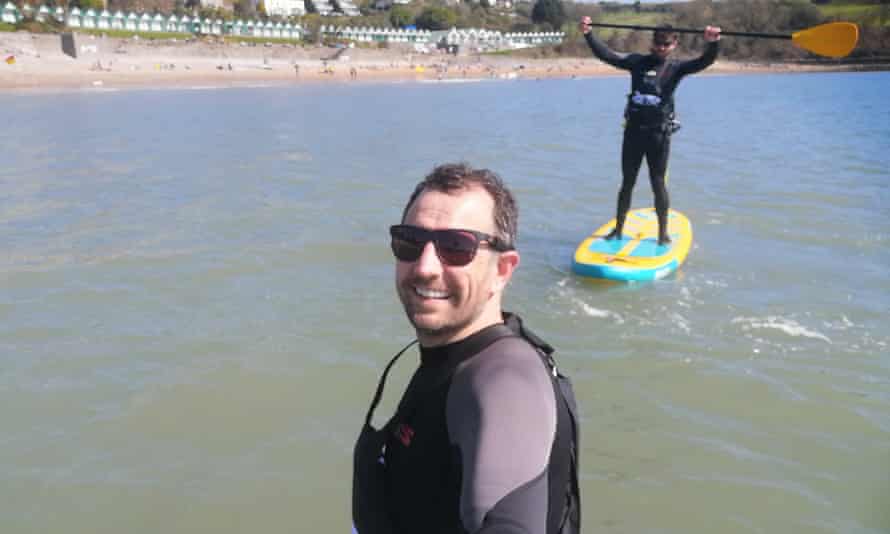 Julian Mainwaring: 'It's really important to plan your journeys in advance'
The community paddler: Julian Mainwaring, south Wales
"I first tried paddleboarding when I lived in Barcelona a few years ago. I loved the sense of freedom, and feeling alive and buoyant. It's a way to escape and is also a whole-body workout that focuses your mind on something that reconnects you with nature.
I wanted to share this passion when I returned to Wales so I started our community, SUP Wales, in 2020 with my sister Melissa. The aim was to create a passionate and professional group around paddleboarding and to pass on knowledge about safety and technique.
We're blessed with an idyllic coastline – I love the Gower peninsula, and Langland Bay and Caswell Bay in particular – but it's vitally important that people paddle safely. I always recommend having a lesson from a professional and to consume the right resources online – information from the RNLI website, for example. I also suggest wearing a buoyancy aid. If you're not used to the water and you don't know how cold it is, you could get cold water shock, and that's when the buoyancy aid can save your life.
It's really important to plan your journeys in advance so you understand what the weather's going to be like. Also, speak with the local lifeguards at the beach so you can assess the risk – there might be an offshore reef at certain points of the tide, for example. It's safer to paddle in groups but if you're a more experienced paddler and paddling on your own, it's always good practice to put a courtesy call into the local coastguard and let them know your plans."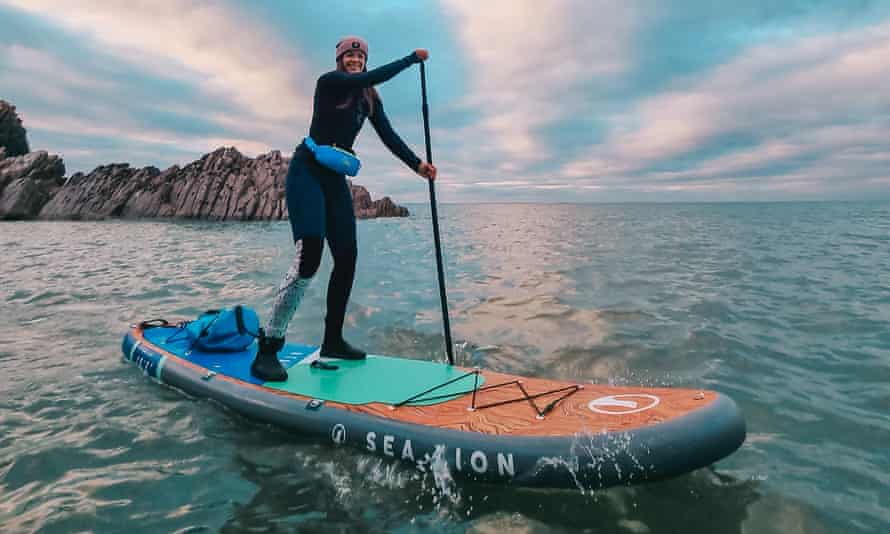 Lauren Teeling: 'Don't paddleboard in a strong offshore wind as it can push you out into the ocean'
The environmental guardian: Lauren Teeling, Devon
"A friend took me paddleboarding in April 2019 and I've never looked back! I grew up in north Devon and always take new paddleboarders to Combe Martin and Broadsands beach. Exploring the caves and paddling around the rock stacks is a magical experience every time, and the beach is beautiful too.
Since the pandemic, there's now quite a large community of paddleboarders in north Devon. One of the best pieces of advice I'd give to a beginner is to go with an experienced paddleboarder or get a lesson, as it can feel quite difficult at first.
When it comes to safety, make sure to check the wind speed and direction. Don't paddleboard in a strong offshore wind, where it's blowing from the coast out to sea, as it can push you out into the ocean. Checking the tides is essential, too. We're on the Bristol Channel, which boasts one of the largest tidal ranges in the world.
Taking care of the ocean is really important to me and the plastic waste issue is huge. For this reason I'm part of the Retask the Mask campaign, which was launched by Cornwall-based company Waterhaul. They melt PPE masks down into plastic, which they then use to make litter pickers. My paddleboard, from Sea Lions Boards, is made from bloom algae foam, Yulex [a natural rubber] and recycled plastic bottles – and my suit, from Ocean Mimic, is made from recycled ocean plastics.
The ocean gives me so much for my mental health and wellbeing, I try to give something back by doing my bit to protect it."
For more useful tips to get the best out of your visit to the coast this summer, and to find out how the RNLI's life-saving work is supported by Ford, head to: theguardian.com/seize-the-summer