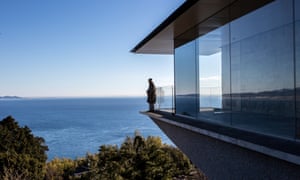 The Enoura Observatory in Odawara.
Photograph: Odawara Art Foundation
Is Yayoi Kusama "the world's favourite artist?" asked the Observer in 2018, noting that a female artist from a non-western country was consistently drawing in huge crowds at exhibitions across the globe, and doing it while garnering critical acclaim – a rare double. "Hotter than Hamilton?" queried the Los Angeles Times.
Art lovers the world over scramble to secure tickets for the queen of surrealism's exhibitions – filled with polka dot pumpkins and otherworldly mirrored installations. The hallucinogenic works of Kusama, now 91, provide exactly what young art enthusiasts want: immersive, interactive and high-impact experiences.
Kusama's fame makes her museum in Shinjuku, Tokyo, one of the busiest and most popular attractions for contemporary art lovers travelling to Japan, but there are a plethora of art spaces worth exploring all over the country – many of which are outside of the big city centres.
Regional treasures
A great number of the best museums and festivals are in rural Japan, among them the Echigo-Tsumari art field, an international modern art festival held every three years, and which, despite Covid, is still expected to take place in 2021 (dates to be finalised). The two-month exhibition, in Niigata prefecture, will encompass around 100 permanent installations and between 100 and 200 temporary artworks located across some 200 villages.
Festivals such as this autumn's Nakanojo Biennale, in hot spring laden Gunma prefecture, and Biwako Biennale, with art works on display in Edo era buildings close to Japan's largest lake, Lake Biwa, give visitors a sense of discovery of lesser-known regions and artists. In Northern Honshu, next year's Yamagata Biennale is a great chance to visit numerous resplendent temples like Yamadera, while the Reborn Art Festival focuses on the Ishinomaki and Oshika areas that were devastated during the 2011 earthquake and tsunami. The festival also has live music and celebrates the region's rich food offerings.
Museums outside Japan's cities take full advantage of their environments and local culture. The Enoura Observatory, designed by the photographer and architect Hiroshi Sugimoto, for example, is unequivocally serene. Perched on a citrus-tree-covered mountain in Odawara, Kanagawa, its magnificent vistas of the Kanagawa coastline have inspired a number of Sugimoto's meditative photography pieces. The entire site is an artwork, with every element of its traditional gardens, teahouse and Noh theatre stage using long established architectural techniques and local materials.
Art Tower Mito is an Arts complex in Ibaraki prefecture with a 100-metre tower, designed by famed modernist architect Arata Isozaki to resemble a Boederdijk-Coexter helix, at its hub. The on-site Contemporary Art Center is known for its excellent curation: rather than relying on collections, the museum features site-specific installations and participatory works.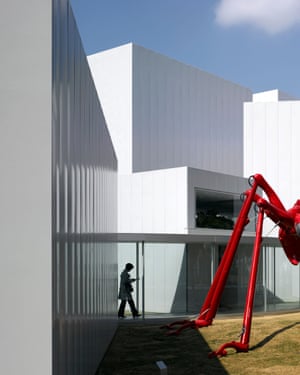 Towada Art Center. Photograph: Edmund Sumner-VIEW/Alamy
Farther afield, there are three large contemporary museums in the rural northern prefecture of Aomori. The exceptional Towada Art Center has a wide range of contemporary works, with large-scale installations by the likes of Yayoi Kusama and the Korean artist Choi Jeong Hwa spilling out on to its grounds and the adjacent street. Its design speaks to its location, says communications officer Sae Otani: "The exhibition room was made so that visitors feel this connection with the town and the beautiful scenery – large windows turn the town itself into an artwork."
The Aomori Museum of Art, around an hour-and-a-half's drive north, features many pieces by art star Yoshitomo Nara, who was born in nearby Hirosaki. One of his best-known works, Aomori-Ken, a huge ghostly, lethargic-looking statue of a dog, is on permanent display here.
Also in the north, in Sakata, is the Ken Domon Museum of Photography around an hour's drive from the resplendent Dewa Sanzan mountains. Believed to be the biggest photography museum in the world dedicated to a single shooter, it houses 70,000 of the master photographer's works. Known for his gritty reportage, particularly in the aftermath of Hiroshima, whatever happened in post-war Japan, Domon was probably there to document it – even after he suffered two strokes and was confined to a wheelchair. His work is testimony to the power of art to provoke and inspire during the most tumultuous of times. If you go to any photography museum in Japan, make it this one.
Manga
Manga fans won't find a better way to spend a day than relaxing on the lawn at the Kyoto Manga Museum engrossed in a pile of their favourite titles. A museum, library and research centre, this manga mecca features themed exhibitions, as well as an inventory of 300,000 manga volumes. Visitors can immerse themselves in the depth and breadth of manga art, and its profound impact on Japanese culture, with topics ranging from classic manga to Buddhism, metaphysics and military history.
The Kadokawa Culture Museum in Saitama, which opened in 2020 is a stunning library and showcase of books established by Kadokawa, one of the largest manga publishing houses. There's a selection of visual and graphic design tomes – perfect for those who can't read Japanese – as well as a separate floor dedicated to exhibitions, recently home to a special on yokai (Japan's supernatural ghoulies). Floors showcasing anime (animated movies) exhibitions complete the package.
Other manga museums include the UFO-shaped Ishinomori Manga Museum in Ishinomaki, Miyagi prefecture, designed by the late manga artist Shotaro Ishinomori. Post 2011, the small city was rebuilt with numerous manga monuments across the streets. Kitakyushu Museum on the Southern island of Kyushu has extensive exhibits on the history and production process of manga, with many displays related to the legendary manga artist Leiji Matsumoto.
The late Osamu Tezuka, considered the most influential manga artist of all time, has an excellent museum dedicated to his work in Takurazuka, Hyogo, with science-fictionesque displays. You will hardly find a person in Japan who hasn't read his deeply philosophical work, and this museum offers a chance to see original sketches. There is also an onsite library with many titles in various languages.
Although Tezuka is touted as the godfather of manga, the genre's roots run deeper, back to when woodblock print artist Katsushika Hokusai (of The Great Wave of Kanagawa fame) began his illustrative book series, the Hokusai Manga, in 1812. Featuring characteristics of manga such as kawaii (cute) animals, speech balloons and use of panels, his works were used as reference material by the apprentices that followed. Excellent exhibitions showcasing the work of a wide range of woodblock print artists can be found at Tokyo's Sumida Hokusai museum, a space-age aluminium building, designed by Kazuyo Sejima, in Ryogoku neighbourhood, near Kokugikan sumo stadium.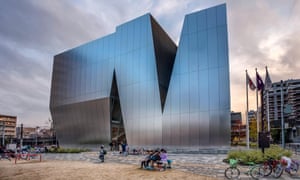 Tokyo's striking Sumida Hokusai museum hosts exhibitions of woodblock print artists. Photograph: Prisma by Dukas Presseagentur GmbH/Alamy
Before your flight
Anyone flying out of Tokyo should schedule some time to take in its clusters of must-see museums, such as the Mori Art Museum and the National Art Center in Roppongi – but the metropolis's smaller art spaces are just as fascinating for art flâneurs. Idiosyncratic offerings such as Scai the bathhouse, a gallery in a retrofitted public bathhouse, and sculptor Fumio Asakura's studio, home to his exquisitely crafted bronze sculptures, are both in the downtown neighbourhood of Yanaka – a charming vestige of bygone Tokyo with its temples and wooden houses.
Attracting people who might not be enticed to a "regular" museum, the immensely popular teamLab Borderless features large-scale projections in what the digital artists behind them call "a world without boundaries". As visitors meander through the darkened halls, they are completely immersed in psychedelic digital projections of butterflies, flowers and meteorites. Visitors are encouraged, indeed enticed, into playing with the art – reaching out to "touch" schools of digital jellyfish that swim across the walls and bathing under a cascading computer-generated waterfall. TeamLab have also created permanent unique projection mapping sites in Fukuoka and Saitama, next to the Kadokawa Culture Museum.
Osaka, dubbed "the kitchen of Japan", isn't just famous for its delicious food. In the Expo 70 Commemorative Park site, which features Taro Okamoto's 70-metre Tower of the Sun, you'll find the Japan Folk Crafts Museum and the Minpaku National Museum of Ethnology. Though not an art museum as such, the latter's visual displays are truly jaw-dropping. For a wide range of artistic offerings, including subculture events, the Creative Center Osaka, at a former shipyard, is a mammoth industrial site with large-scale installations, experimental theatre shows, indie book fairs and even the occasional rave.
Those flying in or out of Fukuoka, another foodie capital of Japan, should drop by the Fukuoka Asian Art Museum, which showcases talent from across the continent.
If you happen to find yourself in Kagoshima, the Kirishima Open-Air Museum's seamless integration of art and environment – its woodlands are sprinkled with sculptures from Antony Gormley, Phillip King and Dani Karavan, as well as prominent local artists – make it an Instagrammer's dream.
For more Japan-based experiences, itineraries, trips and tips, visit Japan National Tourism Organization: japan.travel